Security First Bank Debit Cards
Security First Bank debit cards are a convenient way to pay for almost anything, and can be used at thousands of stores and ATMs nationwide and are available for any personal, business or health savings account. They're safer than carrying cash, less work than writing a check, and simplify your account monitoring with real-time transaction posting.
You can now tap to pay with your contactless Security First Bank debit cards! Simply look for the Contactless Symbol at checkout, tap your contactless MasterCard on the checkout terminal, and go! Your payment is processed in seconds without touching the signature screen or PIN pad.
Need a Debit Card Today?
Opening a new account or lost your current debit card? No problem! Several Security First Bank locations have the capability of creating your new debit card on site: Beatrice – Main, Chadron, Cozad, Hay Springs, Lincoln – Red Rock, Martin, Rapid City – 5th Street, Rushville, Sidney and Valentine. No more waiting for a card to arrive in the mail!
Customize Your Debit Card
Security First proudly offers school mascot debit cards through our partnerships with various school districts in several communities we serve. School mascot cards are available in most Security First Bank locations and can be issued for any new or existing personal checking account, except for health savings accounts. Stop by your local branch to request one today!
American Horse School
Beatrice Orangemen
Bennett County Warriors
Chadron Cardinals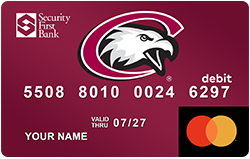 Chadron Eagles
Cody-Kilgore Cowboys
Cozad Haymakers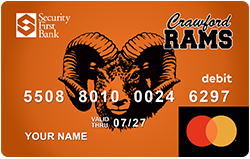 Crawford Rams
Gordon-Rushville Mustangs
Hay Springs Hawks
Little Wound Mustangs
Pine Ridge Thorpes
Rapid City Cavaliers
Red Cloud Indian School
Security First Regulators
Sidney Red Raiders
Sioux County Warriors
Thedford Knights
Valentine Badgers
Wounded Knee Warriors
Report a Lost or Stolen Debit Card
Call: 877-747-3139
Fraud Alert Verification: 855-961-1602
If your debit card goes missing, call these numbers immediately to stop it from being used by anyone else. When you call be sure to specify Security First Bank/South Dakota to expedite the process.