Posted January 13, 2023 in Banking Updates, Community Events
4th Annual Feeding Hearts Food Drive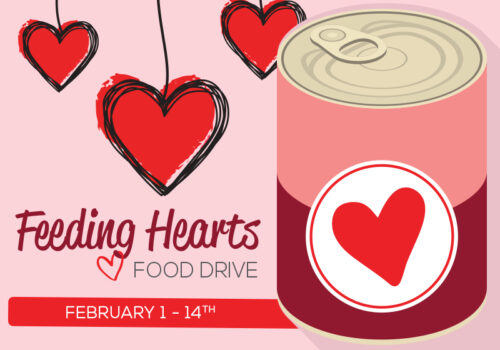 For the fourth year, we are proud to continue our Feeding Hearts Food Drive, February 1-14th. In 2022, Security First customers, non-customers and staff donated more than 4,600 food and personal care items across our service region and we hope to surpass that number in 2023.
Security First will be collecting non-perishable food and personal care item donations February 1 – 14th at any Security First Bank or Security First Insurance location.
All donations will be distributed to local food pantries in the communities we serve. In addition to the food donations we collect, we will make a $500 monetary donation in each of our 20 communities, for a total of $10,000. Together, we can help feed more hearts and combat hunger in our community.
Food Pantry and Personal Care Wish List Items:
Applesauce
Canned Beans
Canned Meat
Canned Sweet Potatoes
Canned Vegetables
Coffee
Cooking Oils (Olive and Canola)
Crackers
Dessert Mix
Dried Herbs and Spices
Fruit (Canned or Dried)
Granola Bars
Instant Mashed Potatoes
Macaroni and Cheese
Meals in a Box
Nuts
Oatmeal
Pasta
Peanut Butter and Jelly
Popcorn
Rice
Shelf-stable and Powdered Milk
Soup, Stew and Chili
Spaghetti Sauce
Stuffing Mix
Whole Grain Cereal
Toiletries (Toilet Paper, Feminine Hygiene Products, Diapers)
Personal Care Items (Shampoo, Conditioner, Soap, Toothbrush, Toothpaste)